W E L C O M E  T O 
CALLED CREATIVES
Helping Christian women write and speak with influence and impact through an online
coaching community
The only online membership that helps you get published, get booked and grow your platform.

In order to nurture the intimate community that best serves our members, our doors only open to new members twice a year. Join the waitlist and be the first to know when our doors are open.
We can't wait to know you!
JOIN THE WAITLIST →
God is doing big things in the hearts of women.
It's time to answer your calling.
Led by best-selling authors, speakers, and industry experts, Alli Worthington and Lisa Whittle, Called Creatives is a private coaching community with hands-on training for writing and speaking with influence and impact.
Called Creatives provides an intimate community giving you opportunities for Mastermind groups, Publishing, private events and so much more! 
MEET THE FOUNDERS
Hi, We're Alli & Lisa
We lead a coaching community for women who are called to share their messages through creative outlets such as podcasting, ministry, entrepreneurship, speaking, and writing.
Have you ever wrestled with questions like…
What is my unique message?

How do I balance my responsibilities with writing and speaking?

How do I write a book proposal or get speaking opportunities?

How do I start a podcast?

 

How do I "market myself" without being boastful?

We guide you every step of the way! 
Here's the truth
You don't have to figure it out on your own. 
We want to share everything we've learned along the way so you don't have to learn it the hard way. The right tools and seasoned mentors can close the gap between where you are stuck and where God is leading you.
We want to remove the intimidation, confusion, and frustration of navigating your calling to write and speak by guiding you in developing your gifting, building your message and expanding your reach.
.
"Prior to joining the Called Creatives community, I struggled with finding my voice and I longed for genuine connection with like-minded women. Through each training, the live monthly meetings, and connections made with other members, I have been able to gain practical wisdom, guidance, and the gracious push needed to help me overcome my fears and confidently answer the call to write and speak."
Latasha Ferguson
Writer, Speaker & Podcaster
I listened to the whisper from God to join Called Creatives, and today I am rejoicing as my first book was just sent to the proofreader. I could not have done this without the encouraging group of women I found in my Collective group. Thank you, Called Creatives.
Called Creatives
The only online membership that helps you get published, get booked and grow your platform.
Insider Knowledge 
Hear from industry experts and take a look behind the scenes of creative professionals.
Live Coaching 
Receive hands-on training from two seasoned best-selling authors, speakers, and ministry leaders
Private Community
Network, connect and learn from other women who understand your dream. You're not in this alone.
Learn at Your Own Pace
Listen to our training podcast on the go or catch up on the weekends. You have the freedom to set your own pace.
Here's what you'll learn
Everything you need to write a book or launch your speaking career.
1. Learn 
You will gather important, valuable information that will serve you in the area(s) God has both gifted and called you.
Once a week teaching by Alli and Lisa, special guest experts in specific areas of expertise, and live coaching create a practical, useful catalog of hands-on instruction to help you move forward in your call. 
2. Activate
You will activate your gifts with new vision, encouragement, and how-to-application skills.
With a strong, proven track record of dream activation, Alli and Lisa teach crucial next steps in information implementation, in order to walk out goals and dreams.
3. Launch
You will launch into the writing and speaking work to which God has called you. Wherever you launch, it will be a place of impact and influence because of how you've developed and grown.
Alli and Lisa, along with the entire community of Called Creatives, will support and cheer you as you take what you know and step into your call in a confident way.
Membership Benefits:
LIVE, 60-minute interactive group 

coaching call with Alli and Lisa
Writing training session

 

that will equip you to become a better writer, establish your voice and get traction 

Speaking training session

 designed to help you develop your unique message, sharpen your speaking skills, and leverage speaking opportunities 

Podcasting training session with everything you need to build your audience with authenticity

 

Library of training sessions with an industry leader

 (publishers, agents, writers, speakers)

Mastermind groups where you'll gain peer feedback, connection and accountability

Private community with opportunities to network and connect with other women pursuing common goals.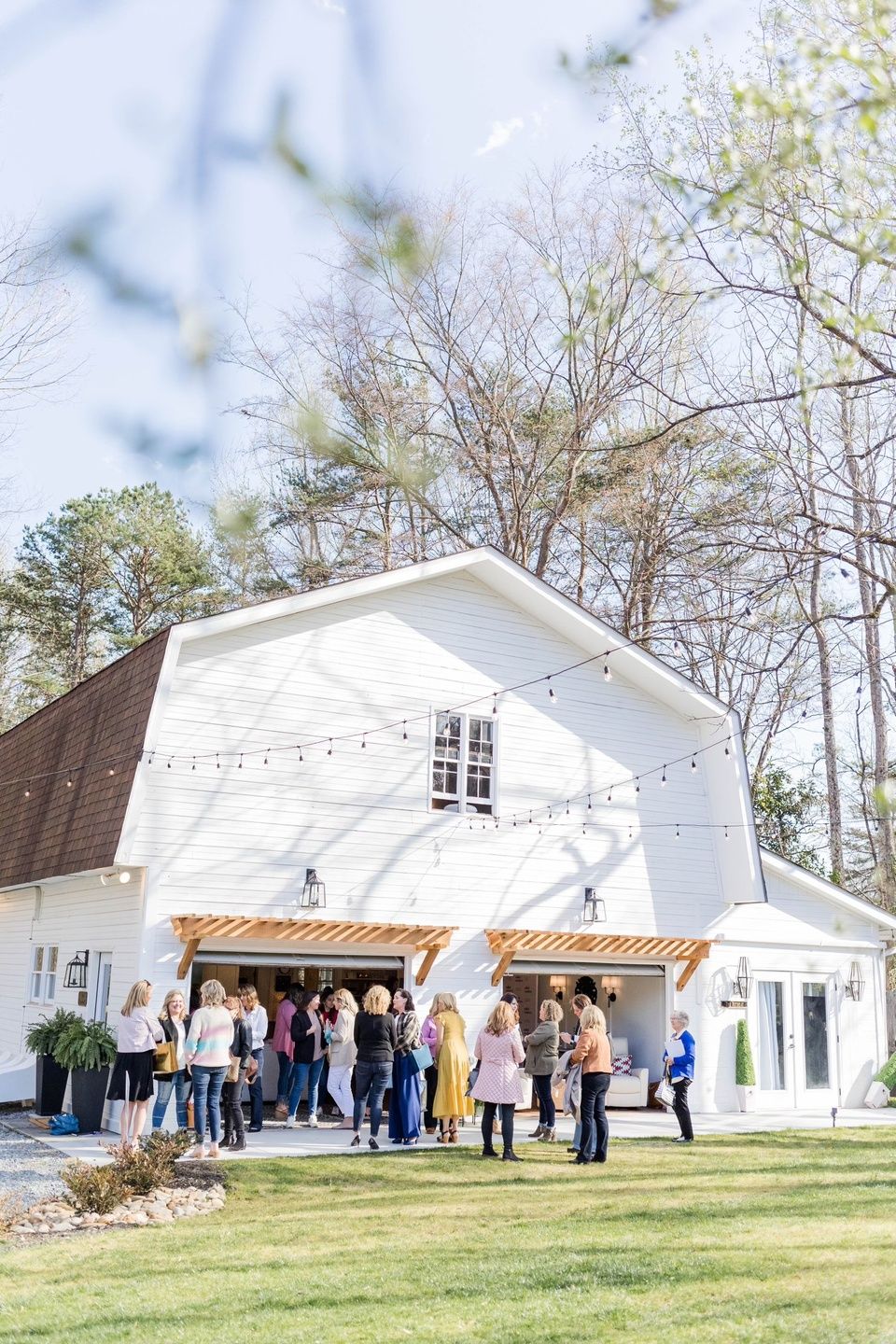 Member Exclusive opportunites
Getaway with Alli & Lisa
As a member, you'll have the opportunity to network with the women of Called Creatives at live events hosted at Lisa Whittle's private venue in scenic, Charlotte, NC. 
Our boutique retreat setting ensures your work will be seen and you won't get lost in the shuffle of a large conference. 
We've tailored our Getaway events to help you grow your career in a setting peaceful enough for creative thinking and intentional enough for you to make real progress on your goals. 
No matter your starting point, you'll receive personalized feedback from Alli & Lisa, apply what you're learning in real time, and connect with women who understand your goals in the serene and intimate event space we've worked hard to create.
Make your book a reality with
Called Creatives Publishing
Don't wait to be chosen. 
As an exclusive benefit to members of our private community, Called Creatives Publishing gives you the opportunity to be in control of your writing career, own your content and lean on the expertise of industry professionals.
With over 15 years of writing experience between us, we've maneuvered all the ins and outs of the publishing process and have a unique perspective on the industry.
When you choose to partner with Called Creatives Publishing, not only are you supported by our talented team of writers, designers, and publishing managers, but you also enjoy the benefit of strategic guidance from our founders, Alli and Lisa!
For too long, women have waited, wished, and wondered when the book inside of them would see the light of day. Choose yourself, partner with us, and launch your book into the world!
Plus, you'll learn from top industry professionals. 
 You'll have full access to these Industry Insiders secrets to the publishing and speaking circuit that you won't find on Google!
joel mudamalle
Theologian
Jo Saxton
Author & Speaker
Jenni Burke
Literary Agent
Jennifer Lucy Tyler
Author & Speaker
ICON
Public Relations Firm
Angela Braniff
Youtube Expert
Chrystal Hurst
Author & Speaker 
Valorie Burton
Author & Speaker
Ready to pursue your dream?
Choose your payment plan:
Annual Subscription
$290
Best Value!
Our doors are currently closed for new members. 
Join the waitlist and be the first to know when they open!
Lisa Whittle
Best Selling Author of 9 books, Speaker/Bible Teacher, Podcast Host of Jesus Over Everything, and Founder of Ministry Strong
Alli Worthington
Best Selling Author of 5 Books, Speaker, Business Coach, and Host of the Alli Worthington Show
We have different personalities and gifts, but we share the same mission and heart, and we are doubling up our efforts to best serve you.

Our unique 2-woman power team started out years ago as a ministry friendship and quickly seeped into everyday life, brainstorming sessions about message prep, book outlines, and everything in between. God has now nudged us to open up our personal notebooks to include you in the conversation, and we can't wait!

With over 15 years of writing and speaking experience between us, we understand the intricacies of the communication world in a distinct way.

Having maneuvered launching best-selling books and podcasts debuting in the top 25 of Christian podcasts, writing and appearing on national media, being on a church teaching team, business coaching, coordinating ministry teams for a national ministry, and launching national ministries, themselves, we feel called to use what we have learned to now help you answer your call.  
This is possible for you, too.
Your path to your writing and speaking career:
1. refine your craft
You'll be personally taught by Alli, Lisa and guest industry experts. You'll have a library of hands-on instruction to help you move forward in your call. 
2. Take Action
With a proven track record of helping women, Alli and Lisa will provide the steps to clarity and confidence as you move forward in your calling. 
3. Launch your career
You will launch into the writing and speaking work to which God has called you. Wherever you launch, it will be a place of impact and influence because of how you've developed and grown.
Our money-back guarantee
Try our program for 30 days, risk-free.
This is for you if:
You dream of writing a book but don't know where to start

You're ready to launch your speaking career with authenticity
You want 

personal training from best-selling authors and nationally known speakers

You have a unique message God has called you to share 
You desire

 

to have influence without self-promotion

You want affordable yet high-level training

You feel alone and want a community of women to help you every step of the way

You're frustrated and tired of trying to figure it out on your own

You're in a busy season of life and need quick trainings on the go
You're ready to turn your dreams into a career that pays




This is not for you if:
You'd rather figure it out on your own 

You aren't ready to share your gift  

You don't believe you're worth the investment
Since joining the Called Creatives community, I have launched a podcast, started my LLC, and I am almost ready to publish my book. The women in Called Creatives have provided me with so much prayer, encouragement and advice along the way. I am so grateful for these kind, inspirational prayer warriors!
Alexandra Yu
"Alli & Lisa's intimate and intentional leadership style sets the pace for a peaceful and yet practical learning community. I have expanded and deepened my knowledge, skills, and my vision for the future. And, as if that weren't enough, I've finally signed my first contract for not one book, but two!"
Rachel Marie Kang
Frequently Asked Questions
Can Called Creatives Help Me Write a Book?
I'm a Beginner. Is that Okay?
Is there an Online Community I Can Join?
I want to build my career as an author and business speaker, not in a ministry capacity. Would Called Creatives still help me?
What if I don't know exactly what I want to do? I just know I feel called, but I'm not sure to what?
Do you have an in-person gatherings for this community?
What is Unique about Called Creatives?
How Do I Contact Called Creatives?
REal talk.
You may be hesitating to join Called Creatives because you believe you aren't far enough along in your creative career to invest in it. 
The unspoken sentiment is, "That's great for them! But…"
…I don't have time for something like this.
…I'm just getting started. Once I become "more professional" at it, I'll invest in learning more.
…spending money on what is just a dream right now doesn't feel worth it.

Too many of us let false assumptions hold us back from moving forward.While only you can decide if now is the right time to invest in your career, research tells us the early stages of anything is crucial. It determines things like health, longevity and trajectory. It truly is the most important season of your creative work, vital to your growing career!
Hiding your gift is not humility. Get started on your dream today.
Here's what's waiting for you on the other side:
Your published book in the hands of women who need it

A speaking career that's making an impact

Peace in knowing you have used your gift for God's glory
"Called Creatives has been an instrumental tool in teaching me about the publishing industry and the 'behind the scenes' that no one talks about. Alli and Lisa are two powerhouses, passionate about spreading the gospel, and full of wisdom that I haven't found elsewhere. I recently signed a two-book deal with my dream publisher, and I have no doubt Called Creatives is one of the reasons why!"
–
Rebecca George
Ready to pursue your dream?
Choose your payment plan:
Annual Subscription
$290
Best Value!